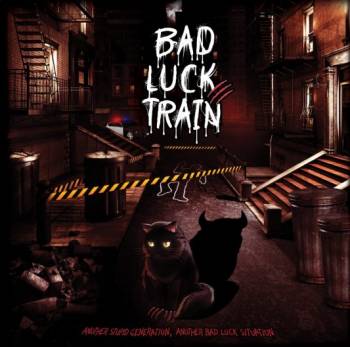 1 – Hell Yeah
2 – Dirty Game
3 – Falling In Lust With You
4 – Spare You My Dirt
5 – Burn Away
6 – Pirates And Cowboys
7 – Royal Disaster
8 – Green Monster
9 – Adrenaline
10 – Parting Line
Fonte: Resenha – Another Stupid Generation, Another Bad Luck Situation – Bad Luck Train http://whiplash.net/materias/cds/212378-badlucktrain.html#ixzz3Sd4k2loi
Vindo diretamente do ABC, a banda BAD LUCK TRAIN, em seu debut, arrisca um rock modern, com influências aos mestres Alice Cooper, Foo Fighters e Queens Of The Stone Age. Lembra muito as bandas da década de noventa, com um som pesado, direto e limpo.
Marca também este disco a excelente produção, que ficou a cargo de  Denis e Victor Salgado, pois tudo está no seu devido lugar, sem excessos ou sobreposições excessivas. Ganha mérito também termos uma banda afinada, coesa e com bastante energia.
Mas, existe um grande ponto negativo. O grupo se prende demais nas influências e não consegue criar uma identidade própria. Lembra-me muito o Living Dead Lights, que inclusive tem uma proposta musical muito parecida. Talvez com um pouco de amadurecimento o grupo consiga ter o destaque me merece.