You can read this post in: Inglês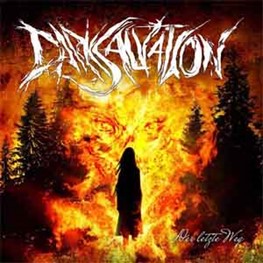 O Death Metal Melódico teve seu auge nos idos de 2006, com grandes nomes de Children of Bodom, In Flames, Soilwork, Arch Enemy, Blood Stain Child, Eternal Tears of Sorrow, entre outros. Com o passar do tempo, na primeira virada para 2010, o gênero caiu um pouco em público e poucas bandas novas surgiram ou tiveram lançamentos relevantes. Talvez o Dark Salvation tenha conseguido um lugar ao sol.
Em termos gerais, não espere muita originalidade deste trabalho. Todos os clichês do gênero estão presentes, com menos teclados que os finlandeses e sem flertar com gêneros modernos. É um trabalho simples, na mesma linha do Eternal Tears of Sorrow e Children of Bodom.
O que se pode dizer é que o trabalho, feito por Samuel Schädler (bateria), Kevin Schädler (guitarra), Gianluca Teofani (vocal), Marcel Gebert (baixo) e Simon Sprenger (guitarra) é bom. É certo que este possa ser, sem dúvidas, um dos melhores trabalhos do gênero, contendo uma bateria na velocidade certa, que apela para alguns blast beats em partes mais importantes, uma levada de guitarra mais heavy metal, que talvez agrade quem gosta do começo do Death Metal melódico, além de contar com letras em alemão, com destaque especial para as músicas "Tränenmeer", "Blutrausch" (com uma pegada mais thrash metal) e "Feuertod".
No fim, acaba sendo um bom trabalho. Talvez com um pouco de amadurecimento da banda, ele acabe se tornando um grande clássico do death metal melódico. Mesmo sem oferecer algo de muito inovador, ainda sim é um disco que merece ser escutado.
Setlist
Intro
Tränenmeer
Schatten
Eifersucht
Lauf der Zeit
Nachtgeschrei
Blutrausch
Sekunden meiner Macht
Pfad der Freiheit
Feuertod
Endzeit
Escute a música Feuertod.