You can read this post in: Portuguese (Brazil)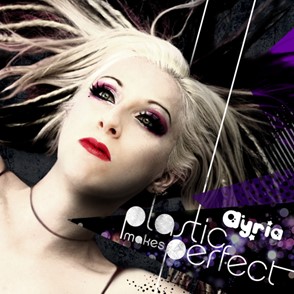 Being honest, I've never been an Ayria's big fan. Maybe it's the bubblegun sonority in the later albums, with an excessive use of pop clichés. Maybe it is just something easy listening, without the complexity from other electronic music acts. Plastic Makes Perfect made me review this position.
This is the second Ayria's release with production of Sebastian Kommor, renowned musician from Icon of Coil and producer of the Zombie Girl, his wife. Certainly, because of the Kommor's production, this recording sounds a little bit different from previous ones, bringing a much better and more exciting music than the other works.
"Hunger" begins good, with electro / EBM beats, and one of the singles released before the album. "Big Plans" has a bit of '80s pop, remembering a little her previous album, "Heart for Bullets". "All That Glitters" is an electronic rock song, mixed Alternative and, without doubt, one of the pleasant surprises on this release. "Games" is a tribute to the first synthpop groups, as Alphaville, a good song for bubblegum melodies' lovers.  "Plastic Makes Perfect" brings some elements of electro-industrial and pop, as an Icon of Coil with a female vocal. It is the best song on the entire album. "Missed The Mark" is a very pleasant poppy song,  with a very exciting and catchy chorus.
"The Box Under My Bed" is more pop / gothic, but, unfortunately, is also a little boring,  with an interesting inclusion of a 80s. keyboard line.  The wonderful song "Friends And Enemies" recovers the breath from the initial songs, remembering some Pzychobitch's songs. "Three Months" is something quite in the Pet Shop Boys' style. It is  not disappointed, but not excited too. The song "Big City Lullaby" brings a bit of post-punk and rock. "The New Style Of Riot" brings some interesting elements, a closing approach with the Nine Inch Nails' sonorities, without the pop of previous songs. And, closing this album, "Letter From An Angel", an "almost-pop-ballad", melancholic and very sad , recommended to Collide, and Switchblade Symphony' fans.
Overall, this album is good. It can be said that there is a very big step since its predecessor, "Hearts for Bullets". It is a concise and mature recording and with  a very good production. It also marks the ripening of Jennifer Parkin and, undoubtedly, is a work you must listen.
Tracklist
01. Hunger
02. Big Plans
03. All That Glitters
04. Games
05. Plastic Makes Perfect
06. Missed The Mark
07. The Box Under My Bed
08.Friends And Enemies
09. Three Months
10. Big City Lullaby
11.The New Style Of Riot
12. Letter From An Angel
Escute a música "Hunger"