You can read this post in: Portuguese (Brazil)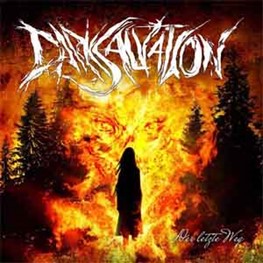 Melodic Death Metal had its heyday as far back as 2006 with big names like Children of Bodom, In Flames, Soilwork, Arch Enemy, Blood Stain Child, Eternal Tears of Sorrow, and others. With over time, on the first upset in 2010, the genre has dropped slightly in public and fewer new bands have emerged or have had relevant releases. Maybe the Dark Salvation has achieved a place in the sun.
In general, do not expect much originality of this release. All the cliches of the genre are present with less keyboards the Finns and without flirting with more modern genres such as nu metal. It's simple work, in the same line of Eternal Tears of Sorrow and Children of Bodom.
What we can say is that the album, recorded by Samuel Schädler (drums), Kevin Schädler (guitar), Gianluca Teofani (vocals), Marcel Gebert (bass) and Simon Sprenger (guitar) is good. Admittedly this may be, without any questions, one of the best works of melodic death metal, containing a battery with the right speed, with some blast beats in the most important parts, heavy metal guitars, which may please anyone who enjoys the beginning of Melodic Death Metal , besides counting with German lyrics, with special emphasis on the songs "Tränenmeer", "Blutrausch" (with a footprint more thrash metal) and  "Feuertod".
In the end, the album is nice. Perhaps with slightly of maturity of the band, it eventually becomes a great classic of melodic death metal. Even without giving something very innovative, but also is a record that deserves to be listened to.
Setlist
Intro
Tränenmeer
Schatten
Eifersucht
Lauf der Zeit
Nachtgeschrei
Blutrausch
Sekunden meiner Macht
Pfad der Freiheit
Feuertod
Endzeit
Listen now the song  Feuertod.