You can read this post in: Portuguese (Brazil)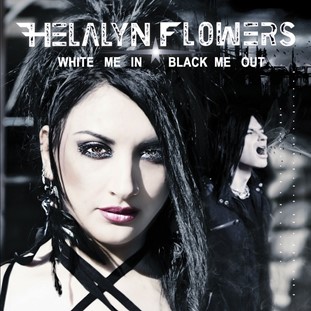 The Italian duo HELALYN FLOWERS releases the third album of their career, "BLACK IN WHITE ME ME OUT", four years after "Stitches Of Eden", both by Alfa Matrix. And what to expect from it?
Starting, it is a record that mixes electronic music (more specifically synthpop and electro), with alternative rock and heavy metal. Featuring the beautiful voice of N0emi Aurora, this work is undoubtedly the most mature among what has been previously produced, escaping from a synthpop-oriented music and embracing an electro [dark] side, bringing us a more dancefloor music.
Opening this release, the single "Before The Sunshine" is a pop and bubblegum song, an electro-rock so enjoyable to listen to. "Collide" is more electro-industrial-oriented, with references to groups like Leather Strip and Skinny Puppy. "White Me In Black Me Out" is a catchy song with simple melodies with generous dosages of synthpop, but with a rock bit. The track "Tribes Of The Future" is more hardrock, more intense, with blends of electronic music. "Alkaline Twins" keeps the line electro / heavy metal, without sounding repetitive or similar to the other compositions in this release. "Electric Night" meets the heavy metal, blended with classic 90s, with guitars in the same line of FEAR FACTORY, mixed with the sensuality and the strength of the Aurora's female vocals.
In "Rid Of Me" the band shows its heavy metal' roots, with a keyboard sounding as a tribute to the 80s music. "Shake" continues with the brands of 80s, but uses a more striking electronic tones. "Utopia" is electro in pure form, changing after a guitar intro. Before ending the album, "Hi-Tech Medusa" begins with beats in the oldschool EBM way, becoming in a danceable melody, gaining weight and body. Closing this work, the song "Lost In Translation" has a very interesting intro, with a cool percussion
It is a good record. It is the best release in the Helalyn Flowers' career, recreating your musicality without sounding mischaracterized, immerging into electronic music and rock / metal, in a big and grateful combination to your ears.
Tracklist
1. Before The Sunshine (3:25)
2. Collide (3:42)
3. White Me In Black Me Out (3:38)
4. Tribes Of The Future (4:26)
5. Alkaline Twins (4:00)
6. Electric Night (4:25)
7. Rid Of Me (3:32)
8. Shake (2:41)
9. Utopia (4:21)
10. Hi-Tech Medusa (4:33)
11. Lost In Translation (4:32)
Seee below the song "Before the Sunshine":