You can read this post in: Portuguese (Brazil)
The American group IN THE SILENCE is very different than expected for a prog metal band. Bringing elements from alternative rock, metal and other genres, they create a unique and original sonority. See our interview with the vocalist and guitarist Josh Burke.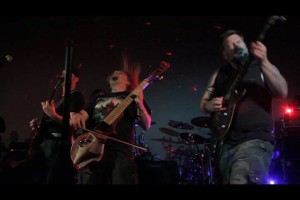 First of all, thanks to accept answer the interview, is an honor to us. To warm up, can you tell us how everything started?
Sure. I kind of came up with the idea to start a band called "In the Silence" way back in 2003 I think. Dennis and I had been in a band called AETHERIA, kind of a goth-metal project with a female singer, and we had just broken up the band. We were going to re-form the band with another singer, but I started playing around with some ideas on my own, and decided to go my own way, but nothing really materialized until much later. I actually went through a couple of line-ups, and even did a few shows with a completely different group of guys back in 2006. Then the band broke up again, and around that time I met Niko. He heard some demos I was working on and mentioned he was a drummer and would be interested in jamming. But I was done with IN THE SILENCE for the moment, and went down to Los Angeles with my friend Azeron to work on a totally different project. I was writing a lot, and some of the stuff I wrote for that project ended up becoming In the Silence songs later, specifically Endless Sea and All the Pieces. It was when I moved back to Sacramento in 2007, and got in touch with Niko again that IN THE SILENCE as we know it now really started. Niko and I started jamming, and then after auditioning a few bassists, we called up Dennis. He had been helping out as a sort of band business adviser and had pretty much been focusing on just that aspect of music, managing a few bands and even starting a small label at one point. But, since we couldn't find anyone who clicked with our vibe, he offered to fill in temporarily…and well he's still here! That was in spring of 2008. We did a couple demos in October that year, and started doing a few shows as a 3 piece. We tried out a few other guitarists before we found Nate in 2009 after I posted an ad on craigslist. And for a while we had another keyboard player, our friend Maureen Rhines (also from Aetheria). Sadly she left the band in 2010 due to some personal issues, and we went on to record A Fair Dream Gone Mad as a 4-piece in 2011. Just this year we added Biagio Guadangolo on keys, and of course we have Jarek Tatarek on GuitarViol sometimes.
What are your influences?
Josh: I listen to a lot of music, but  some bands that have really influenced me are of course OPETH, MY DYING BRIDE, TYPE O NEGATIVE,  PINK FLOYD,  and more recently KATATONIA, Porcupine Tree, even old gothy 80's pop stuff like THE CURE, SISTERS OF MERCY, and DEPECHE MODE, even DEAD CAN DANCE. There's a lot more of course. I pretty much learned guitar by reading Metallica tab books as a teenager! I really like tasteful guitar players, like David Gilmour, Slash, and Mikael Akerfeldt, guys who can put feeling into what their playing. As far as singing goes, David Gahan from DEPECHE MODE, Brendan Perry from Dead Can Dance, Maynard, and Mikael Akerfeldt are in my top 10.  Dennis is here with me as I am writing this so here are some of his influences…
Dennis: As far as bass playing and writing goes,  bands that have influenced me  are THE CURE, CHRISTIAN DEATH, IRON MAIDEN, CRADLE OF FILTH, and SEPULTURA are, and Steve DiGeorgio from DEATH. I like chunky bassists that know how to play within the music, more than flashier stuff.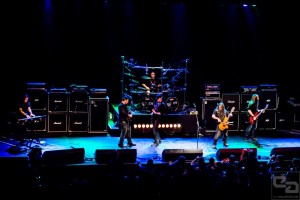 In 2012 you released the album "A Fair Dream Gone Mad, how was the material accepted?
It was accepted very well I think. I was blown away by how fast people started to hear about it, because we didn't really have a promotion budget pr anything.  We self-released it via TuneCore at first, and put it on BandCamp. A lot of people heard it there, and we started to get a lot of great reviews from places like Metalstorm.net. Then of course we got signed with intromental Management and they worked a deal with Sensory records to re-release the album in 2013.
Talk a little bit about the concept of the album "A Fair Dream Gone Mad", what the songs talk about, is a conceptual album, the art cover is great, what is the connection of the art with the songs?
Well honestly there was no specific concept for the album. We just recorded those songs…some had actually been written before the band got together.  But there are some consistent themes to the lyrics…transcendence, overcoming fear and loss, striving to see beauty in a darkened world.  So when the album was done, I came up with the name. The idea there was that life as we know it today, the world we live in, is kind of "A Fair Dream Gone Mad." We've lost our way in the world, and are trying to find it again. We had this beautiful dream, and it's been completely fucked up! It's sort of about the loss of innocence and, and longing for the wonder and beauty that life is really supposed to be about. The album art was then done by Nacho Galacho, an artist from Spain who I heard about from my friend Malcolm in the band Kaura (great band by the way, check them out!).  It's just his interpretation of the feeling of the album, and it works. We love it!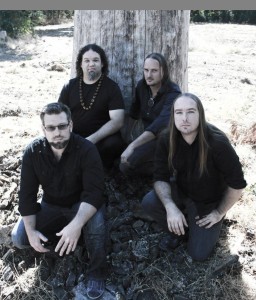 I knew of the band from reading in someplace something like "for fans of GREEN CARNATION and KATATONIA" and obviously it took my attention, but what I heard was different and unique, you have your own sound. How does the band work in the composition process, do you have a main composer?
Josh: I do a lot of the writing on on my own, and I write all the lyrics. But everyone contributes. Niko helps a lot in terms of fleshing out the song structure and keeping me sharp, and making the songs more progressive. A lot of the little time signature changes and things are his ideas. Dennis of course writes most of his own bass lines, though on occasion I have a pre-written idea. And he'll make suggestions for the arrangements.  Some songs we jam out together, starting with maybe a riff I have, and then Nate will have an idea, and we start piecing it together from there. Nate and Niko came up with the big chunky rhythms on Ever Closer underneath my little melody on the chorus, and that bridge section where I'm playing the lead melody, they came up with all the interesting stuff underneath it. Same with Your Reward. That intro riff is Nate's, but I wrote the basic song structure in terms of the verses and choruses. Then we jammed a bunch of the other middle stuff and wrote it together. Nate also wrote a lot on Serenity….that bridge section with that super chunky riff is his. He really adds a lot of the icing on the cake so to speak, and Dennis will hold it together with a nice bass melody.  And now with Biagio in the band, theres a whole new element to the writing process. He has a lot of great ideas, and I'm looking forward to writing with him on the new stuff.
I know it is early to say, but will we have new material next year? What are the band's future plans?
We're working on material for the next album now, and actually have quite a bit written.  I hope to start recording it this coming spring! If it's possible to release the album next year we will, but time will tell.
Do any of you make a living with music, direct or indirectly? Or do you have other jobs?
We all have other things we do to make a living for now. I would hope one day music will pay all the bills…as I am sure every musician does.
We are in internet era, where everyone can download music with one click. What do you think about it?
Josh: On the one hand it's great. it makes it so easy to get music out there and to be able to promote yourself. Yet, at the same time, it makes it harder to monetize. I do kind of wish that part were different. Labels used to have big money to throw around, and you could get a big advance on a record, quit your job and just make music…at least that's the fantasy! Now days that part is a little more difficult, but overall, I think the internet is a good thing for musicians and for the fans.
What do you think about services such as Spotify, Grooveshark (or any other streaming service you know), do you believe it helps against the illegal downloads?
I think streaming services are probably a big part of the future of music. Unfortunately, they don't pay very well. You have to get millions of plays on Spotify to get a few thousand dollars, which sucks. So a band has to make money from merch, from doing shows to make up from what they don't get from album sales. Dennis and I personally love using grooveshark to create playlists for parties. I haven't gotten into Spotify though.
Thanks for your time, for the interview, now the space is yours to say something to our reader, best regards.
Well first, thanks for supporting a small upcoming band like In the Silence! We're really grateful to have people out there interested enough to want to ask us questions and hear more about the band. Everyone in the band is really looking forward to the future, putting out great music and hopefully touring all over the world! Thanks Fernando, and thanks to all of the people reading this!
Related Links
https://www.facebook.com/inthesilence
http://www.twitter.com/inthesilence101
http://www.myspace.com/inthesilencemusic
http://inthesilence.bandcamp.com/
http://www.amazon.com/s/ref=nb_sb_ss_i_0_6?url=search-alias%3Ddigital-music&field-keywords=a+fair+dream+gone+mad&sprefix=a+fair%2Cdigital-music%2C346