You can read this post in: Portuguese (Brazil)
The Ukrainian group LOS COLORADOS is very interesting. Composed by Ruslan Prystupa "Prystupnic" (vocals, Bayan [a kind of accordion]), Rostyslav "Roslyk" Fook (guitar, backing vocals), Serhij "Huna" Masyk (bass guitar, backing vocals) and Oleksandr "Lesyk" Drachuk (battery , backing vocals), is a group known as performed  "folk" versions to classics as  Du Hast (Rammstein), Hot & Cold (Katy Perry), etc. Check out an interview we did with the guitarist of the group, Rostyslav Fook.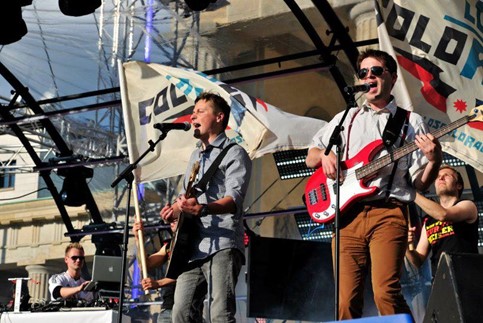 GROUNDCAST We are honored by the opportunity to conduct an interview with you, Rostyslav Fook. So get started! Could you tell us a bit about the history of the Los Colorados?
 ROSTYSLAV FOOK It's a simple story that starts from friendship of three good amigos who worked together in one photo laboratory in Ternopil: Sergii , Ruslan and me. Each of us had some experience in music, we played with some bands.  So we decided to get together once or twice a week for relaxing and jamming. Then we started writing music just for fun. We asked another guy, Sasha, to play the drums for us. Day after day some people got to know something about us and invited to different small venues and festivals. Sasha got the opportunity to earn more money with his new band and left us. After that we took Lesyk and that was the beginning. Everything after that as they say is history 😉
 GROUNDCAST Being a Ukrainian band, why did you choose a name like "Los Colorados"?
ROSTYSLAV FOOK That's a good question )) We had rehearsals together with another band called Kenny in the same room. After one of our rehearsals we left a total mess . That was a "full house" of empty bottles, leftovers and dirt. The next day when they came in  and it smelled like hell. So one of the guys called me and said: "What the f**k was going on here? You damn pests, you're like some beetles". Thus we decided to name the band Los Colorados ( in Ukrainian "colorado beetle" stands for potato beetle). We added the Spanish article "Los" in order to give some exotics to our title.
 GROUNDCAST How do you define the genre of LOS COLORADOS?
ROSTYSLAV FOOK There's a lot of ways how people call us – polka-punk, alco-rock, agricultural rock (because our own songs in Ukrainian are more about farmers, village etc). As for me, I think it's hard to define it, it's a mixture of everything from folk to heavy metal.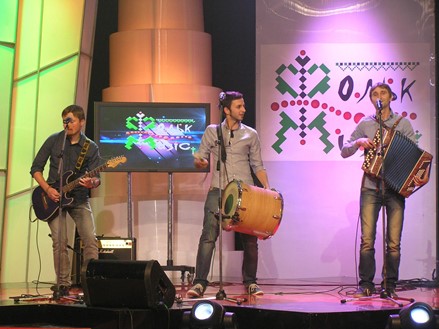 GROUNDCAST When did you decide to record covers of other performers? What was the inspiration for this?
ROSTYSLAV FOOK First of all, we performed the Katy Perry cover on TV just for fun.  Sergii had never played the double bass before, Ruslan hadn't played  button accordion for 13 years since he was in high school. A lot of people enjoyed special music mix created by us on regular basics and they were really excited to find out that we created some covers. Then we started picking up something that we loved or something that would sound in quite a different way than the original. And the inspiration is always a bottle of good Ukrainian "gorilka"… (traditional drink)
GROUNDCAST What are the inspirations and influences on you?
ROSTYSLAV FOOK Each of us listens to different kind of music. I like classic rock, blues, world music. Ruslan is a big fan of Ukrainian rock bands, Sergii doesn't listen anything and Lesyk is keen on something new and innovative. And of course we all like our own Ukrainian folk songs because they are our roots ,bloody roots )
GROUNDCAST While watching your videos, we have noticed that you guys have many views on YouTube. Does the band perform many shows?
ROSTYSLAV FOOK One or two gigs a week approximately. Sometimes we go abroad. By the way, this summer we go to Canada to play at one festival and we also go to Germany as well.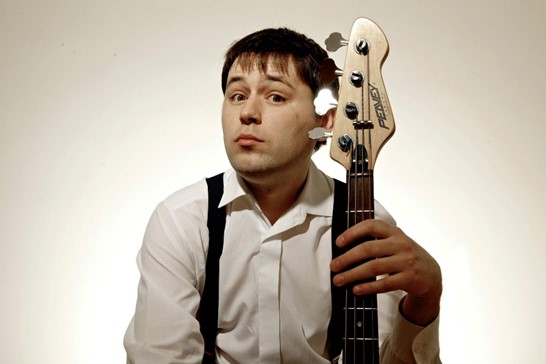 GROUNDCAST We are currently going through a creative crisis in popular music, with bands of rock, pop and metal repeating them too much. Do you think that music is more repetitive?
ROSTYSLAV FOOK Of course it is 'coz there're only seven notes )) But I don't think it's that bad. I can listen to AC/DC for months and they don't seem boring or repetitive to me. It's their style. But if you want to do something new, you don't have to stuck on one thing, you have to listen to completely different music and after that your mind will become more free and experimental.
GROUNDCAST And how does the public react on group' sonority? Do you receive many annoying or flattering comments concerning music you make?
ROSTYSLAV FOOK Yes, there's a lot of comments on Facebook or Youtube, mostly positive. Of course there's always another camp that will post different negative crap. We don't care about this because we have great fans who always support us and this is the most crucial for us.
 GROUNDCAST What do you think about the illegal sharing of mp? I only knew you from Youtube and have access to the material due to the LOS COLORADOS site because here in Brazil downloading tracks is quite expensive in case I can find your songs.
ROSTYSLAV FOOK Here's the Ukrainian version of the album, Enjoy ) http://www.ex.ua/view/17280886 [Note: this link is offline]
 GROUNDCAST Do you have any predictions or plans relating to your new album.
ROSTYSLAV FOOK Right now we are working on  video editing from our anniversary concert that took place a month ago. It consists of our own songs with some additional guest musicians. It will be on audio as well.
 GROUNDCAST Do you know any Brazilian band? What?
ROSTYSLAV FOOK Definitely SEPULTURA, the band we all adore. And everything that Cavaleras are doing now. But classical SEPULTURA of the nineties is the best, I mean Chaos A.D. and Roots. It had everything from tribal dances to smashing riffs, this combination was a killer.
 GROUNDCAST Thank you for the interview, Mr. Fook. Could you leave a message for our readers.
ROSTYSLAV FOOK Thank you, for me it's a big pleasure to give an interview for readers of the country I've always dreamed to visit. All I wanted to tell you: just be yourselves and never give up! And who knows, perhaps we can meet on Rock in Rio someday 😉
Desejo-lhe paz e prosperidade.
 Related Links
https://www.facebook.com/LosColorados
http://twitter.com/loscolorados
http://youtube.de/loscoloradosband