You can read this post in: Portuguese (Brazil)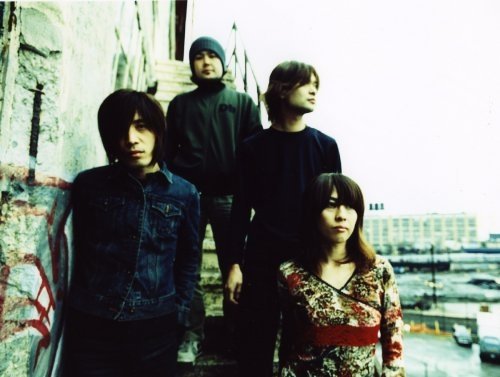 MONO is one of these bands that you must listen. This Japanese four-piece group made their name throughout Asia, Europe and America with epic and majestic performances. With sad and melancholic tunes, their music put the post-rock genre in the highest level and their success is a combination of talent, creativity and originality. We were honoured with this interview with Takaakira Goto. Let's go!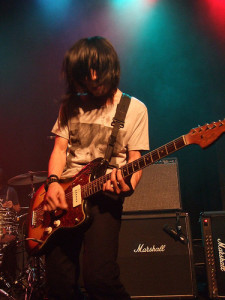 Alright Mr Goto, thank you for this interview. For our readers, could you say the MONO band's story? How is the Japanese post-rock scene? I ask you because here in the Brazil (and, maybe, in the non-Oriental world) the well-known bands from Japan are the Visual bands, like X-Japan, Dir en Grey, B'zo or some heavy/hard groups, as Eizo Sakamoto, Anthem and Sex Machineguns.
Since we formed the band, we haven't really gotten involved with the Japanese scene because we went overseas so we're not that aware of what's happening in the Japanese scene. The genre Post-rock is now more popular in Japan so there are apparently a lot of bands out there but we still don't know much about them. There are some fantastic bands from Japan though that we respect, such as envy and Boris, but their music would be much closer to Hardcore than Post-rock.
Is it hard to play in a post-rock band? Sometimes I have the impression the "underground" and the mainstream scenes are not prepared to something more experimental.
From the beginning, we were always focused on our vision so we never cared much about our music being accepted in underground or mainstream scene. We just stayed true to ourselves and wrote songs that represented our emotions and lives, and we just thought it would be great if we could perform and share those songs with all the people in the world.
About touring, could you tell us about the audience's reception in the gigs? I watched some videos and the people enters in trance during the songs.
Our audiences (globally) generally watch us quietly like you're watching a film in a theater. We think that every one of the audiences feel their own story differently, from their own experiences and memories through our music, almost like a spiritual travel. And because of that, we think we managed to expand our dynamics in sounds to this level over the years.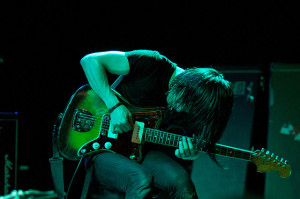 I knew the band since "One Step More and You Die" (and there is in this album my favorite MONO'S song, "Com(?)") and I notice in every subsequent work more melancholy and sadness, with a gloomy beauty in every new song. Is it purposeful?
The two new albums "Rays of Darkness" and "The Last Dawn" are coming out in October. One portraits darkness, and the other portraits hope, so we decided to release both at the same time. We wanted to leave the chaotic ones as chaotic as posisble, and make the positive ones as positive as possible. "The Last Dawn" is an opposition album to "Rays of Darkness"which is about escapting from darkness and find light.
About your creative process, what inspires you? Who are your influences?
From Beethoven to Led Zeppelin of course, I also listen to a lot of Ennio Moricone, some old film soundtracks, as well as My Bloody Valentine, some heavy bands like Neurosis to Burial who is a Dubstep artist. There are so many amazing artists that gave me a lot of influences and they can't simply be measured.
MONO started the activities on 1999 and continued with much vitality and evolution. What are the difficulties to continue all this time together?
To be honest, the 15 years went fast. We travelled the world together every year, and we feel like we all grew up together gradually as children to adults. Everything we saw were fresh, everything we did was an adventure with continuation of facing the unknown, excitement and setbacks. The whole process was like learning all the essentials of life through our music and travels. We think all of these experiences made our sounds. Creating a bridge so called music is our job, and because of all the people, colleagues, friends and fans all over the world we met over the years, over the bridge we created, we can continue to do what we do. We are truly thankful for that.
How the experience touring out of Japan? Could you tell us any important fact during these shows?
We were seeking for a sound that's original and unique, not something that has already been done or try to copy them for that matter. We felt that we should create something that's like a language globally accepted over countries, history and cultures.
I always need to do this question: what is your opinion about mp3 sharing and the online streaming services like Spotify and Deezer? Here in Brazil, for example, is difficult to find any physical material. I listened the band at the first time on the internet.
When we started MONO and started touring, internet was not as big as now. YouTube didn't even exist. We survived by simply playing shows and touring. So even now, we still focus on the real impact and every moment of live performances. We of course think recordings are important, but we simply just want to be the best live band in the world. So we are not so concerned about things like Spotify, we just see them as tools to get people to our shows.
About the new album, what can we expect?
As previously noted, we will be releasing two new albums in October. The two albums ended up representing the counter points in life. Light and darkness, hope and hopelessness, love and loss, the emotions which can't be expressed, pain which you can't put into words, happiness which you can't simply measure. We also at the same time felt and hoped that they could be something to exceed the darkness.
Do you know any Brazilian bands? In my country the post-rock is growing, with bands as Labirinto (http://labirinto.bandcamp.com/), Herod (http://herodlayne.bandcamp.com/), E a Terra Nunca me Pareceu tão Distante (http://eaterranuncamepareceutaodistante.bandcamp.com/), with the support of rhe Brazilan Netlabel Sinewave (http://sinewave.com.br/).
No, we don't. We will definitely check them out though, thanks!
Have you ever any invitation to tour here in Brazil? In recent times there was a festival called "Overload Music Festival", with God is an Astronaut as headliner.
Unfortunately we still haven't had the opportunity to play in Brazil. We're really hoping to play there in the near future and share something special through our music and with people!
Takaakira"Taka"Goto