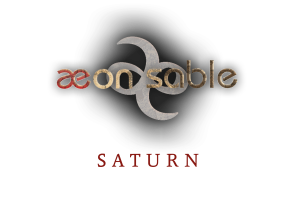 Aeon Sable projects is one of the most promising of the goth scene today. Formed by Nino and Din-Tah Aeon, their work merge the features of the eighties gothic rock without losing the modernity, so necessary to the whole scene. The duo gave an exclusive interview to Groundcast.
GROUNDCAST It is a great honor to interview you for the GroundCast. For many people in Brazil the band is still unknown. Please tell us a little about the story of the band.

AEON SABLE  Hello Sombrati – hello dear reader. It is also a great pleasure for us to be here.
Well, Din and I have been playing in several garage bands before we met for the first time few years ago. He told me that he does some mixing and mastering and so I asked him if he could help me out with my musical projects and he agreed. After a very good collaboration on two albums I asked him if he would like to be a fixed member on my projects and once again he agreed.
After a while we decided to make a cover of a track and so we covered "darkriders" a track originally by one of my sidekicks called melanculia and that song gave birth to Aeon Sable.
We started writing more tracks and soon we released "Per Aspera Ad Astra".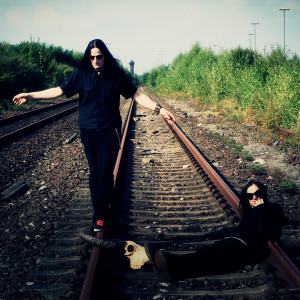 GROUNDCAST About the band name, aeon sable, what does it mean?

AEON SABLE  Aeon Sable, freely translated means something like "Dark Age". That's it – we build soundtracks for the people living in the "Dark Age"
GROUNDCAST What are your influences?
AEON SABLE We are mostly influenced by live. There is also a lot of black metal flowing through our veins but – a man's expression might be sometimes different from his impressions. We also listen to a lot of good old Goth Rock – all that kind of music you can buy on vinyl in some second hand shop. Let's say it this way: Music build our tools and daily live is our inspiration – if you add some creativity and madness you obtain the root of Aeon Sable
GROUNDCAST  In this year you released the new album, "Saturn Return", what could you tell us about it?
AEON SABLE Well, while "Per Aspera Ad Astra" was more experimental in many ways, this time we had a plan. We wanted to make an album that convinces  – we wanted to show the world all our skills and talent to offer the best soundtrack ever.
GROUNDCAST  Do you have some side project?

AEON SABLE  Yes, Din and I work together since 2010 on "Deied" and "Melanculia".
GROUNDCAST How do you see the goth scene today, in the world?

AEON SABLE To be true – we rarely make part of the goth scene. We have the impression that Gothic is not a style but a way of living. You can be goth without having goth friends. Even in music – if you ask Robert Smith (the cure) or Andrew Eldritch  (the sisters of mercy) – they will tell you the same. They don't see themselves as a part of the scene.
We think that everyone has a dark side including some dark desires and thoughts but not everyone becomes part of the scene.
GROUNDCAST Do you know any Brazilian band?

AEON SABLE  I know Sepultura, Ratos de Poão, Sunset Down e The Knutz.
GROUNDCAST  The goth scene in South America is passing for a big change, where a considerable number of bands have been doing shows here as Diary of Dreams, The Frozen Autumn, Clan of Xymox etc. Would you like to play here in Brazil?

AEON SABLE  Oh – of course we would love to play in Brazil.
GROUNDCAST What bands are you listening at the moment? What do you recommend?

One band that is driving me mad right at the moment is "The Soft Moon" – "Angels of Liberty" 's latest record is also pretty good.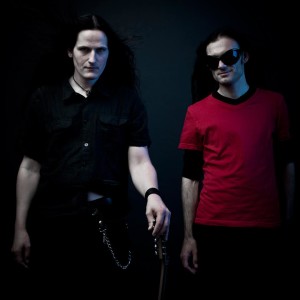 GROUNDCAST How is the relationship with other bands?

AEON SABLE  Oh – we don't have a lot of contact with other bands. I don't know why.
GROUNDCAST How is the album being distributed in Europe?

AEON SABLE  "Saturn Return" will be released only as a limited vinyl of 333 pieces and as a download edition – no CD! Everyone wanting a limited Vinyl should contact us through our website or contact our label (afmusic).
GROUNDCAST  Nowadays it is inevitable to make that kind of question. What do you think about mp3 sharing files on internet? Does this fact hinder the bands? In countries like Brazil, CDs of underground bands are hard to obtain, when they arrive, they cost three or four times its original price.

AEON SABLE  I've been a young boy once and I never had the money to buy cd's. What do you thing would a boy like me answer? As the musicians we are now, you should understand that we need the money from the sales to eat and smoke and drink – well – to keep on making the music independently. In my opinion it is ok to download an album illegally and buy the next one – depends on the afford you have. If you download music from underground bands, you are killing them, if you buy music from major bands you are making the major labels richer.
GROUNDCAST  Thanks for interview. And now, this is your space to leave a message to our readers.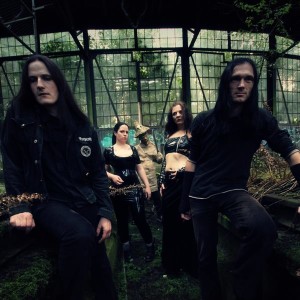 AEON SABLE  Before closing the interview, there is something I would like to say about the upcoming album. But first of all, related to the last question – now that our first album "Per Aspera Ad Astra"  is sold out, we are offering it for free – why? – because we know that there are a lot of poor boys and girls out there. Get it here ->  http://aeonsable.bandcamp.com/album/per-aspera-ad-astra
Now, about the forthcoming album – there is going to be a download version of "Saturn Return" (i-Tunes 12.12.12, AmazonMP3 11.01.13) and a special limited edition of 333 vinyl appearing in February 2013.
Thank you for your attention.
Dark greetz from germany
Related Links
http://aeonsable.de
http://aeonsable.bandcamp.com
http://www.youtube.com/user/aeonsable
http://af-music.de